And then there's my take, in addition to your post of an image I was re-working last nite......
White Swan's Medicine
by White Eagle © 2002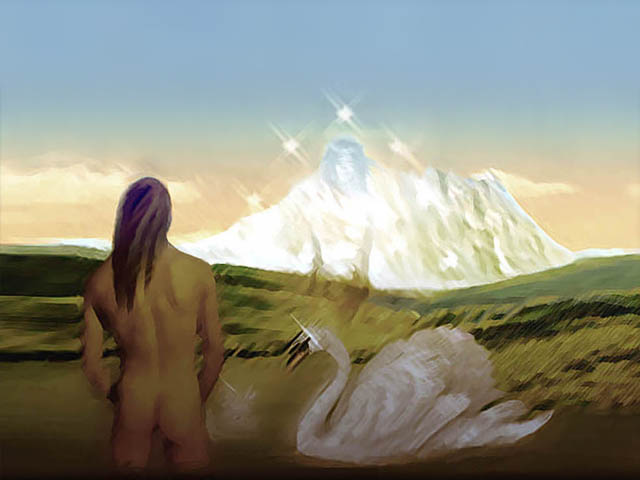 Sensitive Swan
Beautiful song
Long, clear and strong.
Magical dreamer
Mystical seamstress
Weaving The Goddess' magic and charm
The Grandmother's Daughter
Venus' delight
Good Medicine alights on The River of Life's surfaces
Ready to be taken
Deep beneath her charms.
But here comes a warning, an alarm. Be ware!
Never go to extremes with my medicine
Your dreams of mystical pleasure and power
Sometimes are nothing but an ego fallen under its spell.
Treat Goddess with reason
Treat Her with care.
Allow Her medicine to tell you how far She wants you to go with it.
Never underestimate The Power of Her Wisdom and Beauty.
Let it be a path not a goal.
Like The Path of the Heart
One must go slow
Expressing The Divine Artist's canvas
With dignity and respect
Not ambition, nor power, nor the search for gold.
Like the pot at the end of the rainbow
That is only an egos' grand illusion
A good angels' dreams one can never hold onto.
Be thou holy, Be sweet, be gentle and be ever so kind
Be full of The Divine Beauty
A White swan's heart wouldn't dare leave behind.
Aho!
Ah! The Winds of Change---Being gorgeous, powerful, wise, independant and strong yet still being dependant on the Divine!
This is what I heard Spirit say to me today. As I contemplate the situation I am presently in and where it may lead, I vizualised a very calm, mirror-like lake, whose surface reflected the sky above. The air was still. Then suddenly, a strange new energy from beneath the surface started to rise, troubling the current underneath. At the same time a swan, seemingly unaware of what was going on floated effortlessly by. I thought for a moment and then I could sense what Spirit meant for me to understand about dependancy/independance and inter-dependance.
The wind over the lake started to rise and now the surface was "troubled" too, but not the swan. The wind certainly had a mind of its own and was intent on "doing it's thing". What is this dependance yet independance? Does the lake need the wind to do what it intended to do today, or does the wind need the lake? The swan certainly needs the lake, but does it need both of them? Maybe its feet have been injured or deformed and in order to get to where it needed to go, it needed the wind to push it along.
I decided: Whatever the Swan and the Wind needed to accomplish individually that day was of their own choosing, but when they encountered each other, whatever they planned on doing alone previously for their own reasons, found a way to accomplish both their needs together. We all depend on each other's co-operation. For that, I am sure. (YOU CAN EFFORTLESSLY BE THE SWAN, TOO, MY FRIEND! Use your intuition wisely, but whatever you do with it, know that your need may be another's salvation simply because of your calm presence in the middle of a storm.